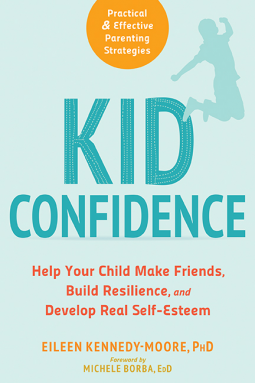 Available on Amazon (Click on picture)
*Paperback : 224 pages
Editor : New Harbinger (28 february 2019)
Language : English
Dimensions : 15,2 x 1,5 x 22,9 cm
* Kindle
Size : 1842 KB
Pages : 240 pages
Description :
Help your child cultivate real, lasting confidence! In Kid Confidence, a licensed clinical psychologist and parenting expert offers practical, evidence-based parenting strategies to help kids foster satisfying relationships, develop competence, and make choices that fit who they are and want to become.
As a parent, it's heartbreaking to hear your child say negative things about themselves. But as children grow older and begin thinking about the world in more complex ways, they also become more self-critical. Alarmingly, studies show that self-esteem peaks during the preschool years, only to take a sharp nosedive as children head into their teens. So, how can you turn the tide on this upsetting trend and help your child build genuine self-esteem?
With this guide, you'll learn that self-esteem isn't about telling kids they're "special." It's about helping them embrace the freedom that comes with a quiet ego-a way of being in the world that isn't preoccupied with self-judgment, and instead embraces a compassionate view of oneself and others that allows for both present awareness and personal growth.
When kids are less focused on evaluating and comparing themselves with others, they are freer to empathize with others, embrace learning, and connect with the values that are bigger than themselves.
You'll also discover how your child's fundamental needs for connection, competence, and choice are essential for self-esteem. Connection involves building meaningful and satisfying relationships that create a sense of belonging. Competence means building tangible skills.
And choice is about being able to make decisions, figure out what matters, and choose to act in ways that are consistent with personal values. When children are able to fulfill these three basic needs, the question of "Am I good enough?" is less likely to come up.
If your child is suffering from low self-esteem, you need a nuanced parenting approach. Let this book guide you as you help your child create unshakeable confidence and lasting well-being.
My Review :
The Author Eileen Kennedy-Moore tends to give différents strategies to allow kids with low self-esteem building confidence.
I really like the way she helps parents to be more alert and change their attitude with their children by learning them how to start by nuanced approaches like learning them mastering learning skills, coping with bullying or teasing…
By reading this book, parents will guide their kids by growing in a healthy emotional state.
Thanks to New Harbinger Publications and to NetGalley for approving my request to this parenting book.